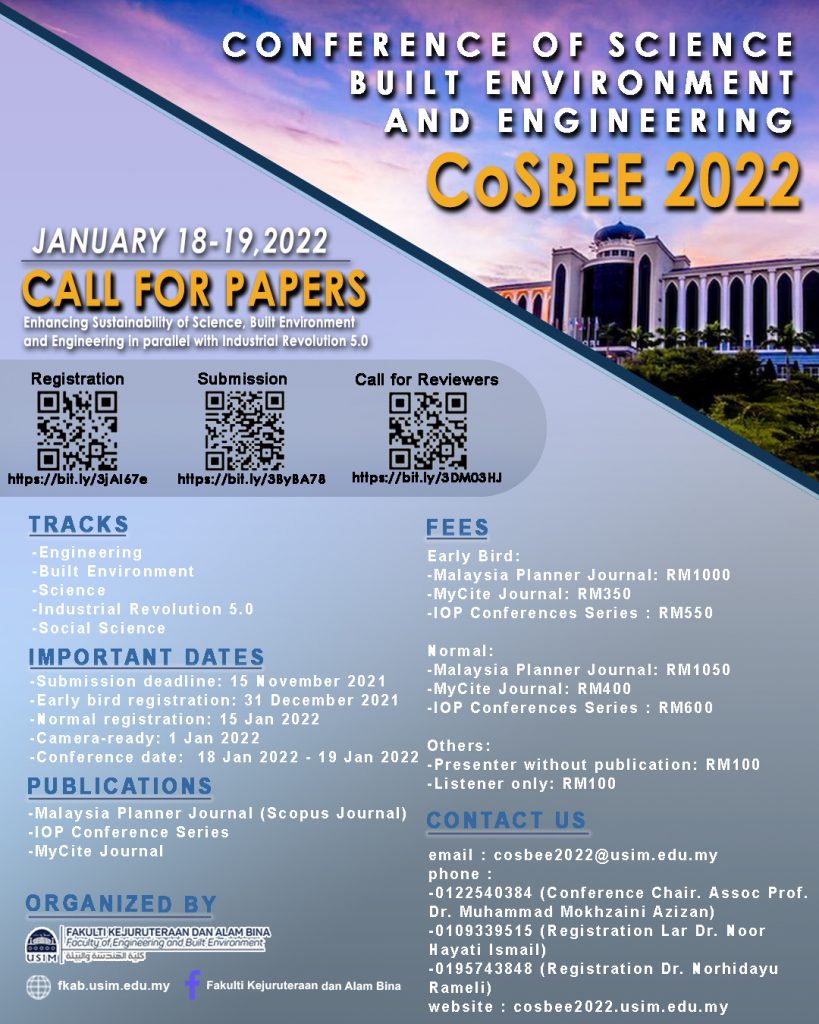 Introduction
The 2022 Conference of Science, Built Environment & Engineering (COSBEE 2022) aims to provide a platform for leading academic scientists, practitioners, and researchers worldwide to exchange and share experiences and research results they have produced on key themes related to the engineering and built environment. Through COSBEE 2022, researchers and academics are given the opportunity to present and discuss the innovations produced, the latest challenges, and the solutions adopted. In addition, COSBEE 2022 will also provide an opportunity to increase the network that can help forge cooperation between universities, research institutions, government, industries, and local & international experts. Also, this conference aims to highlight the results of innovative research in the realm of construction and engineering in line with the development of the industrial revolution towards the 5.0 Industry Revolution.
Objectives
Provide a platform for academics and researchers to present their research in fields related to science, architecture, and engineering.
Analyze current issues in science, architecture, and engineering as well as challenges to identify in more depth and detail the methods of solution.
Mobilize all resources and expertise from the academic and practical worlds to establish strong collaboration in disseminating information on potential opportunities in the science, built environment, and engineering industries as a whole.
---
Tracks
Engineering
Electronics Engineering
Electrical Engineering
Power System and Operation
Power Quality
High Voltage Engineering
Positioning and Navigation
State Estimation
Nanomaterial
Optics and Sensor (Electronic and Bio Engineering)
Laser and Image Processing
Machine Learning
Pattern Recognition
Communication Engineering
Wireless Power Transfer
Network Switching and Protocols
Tomographic and Physical System
Renewable and Clean Energy
Optimization Engineering
Energy Technology and Engineering
Embedded System
Control and Applications
Engineering Education
Science
Industrial Chemical Technology
Information Security and Assurance
Actuarial Science and Risk Management
Financial Mathematics
Food Biotechnology
Applied Physics
Health Industrial Technology
Built Environment
Sustainable Architecture
Renewable Energy
Passive Design
Daylighting
Indoor Air Quality
Facility Management
Project-Based Design Management
Therapeutic Architecture
Urban Design
Landscape Architecture
Conservation
Adaptive Reuse
Street & Laneway Character
Housing
Islamic Built Environment
Environment-Behaviour Study
Community-Based Design
Beautification, Aesthetic and Rejuvenation Efforts
Industrial Revolution 5.0
Artificial Intelligence System
Computer Vision
Smart Grid
Robotics
Intelligence System and Approach
Image Processing and Computerised System
Radio Network System
Adaptive Manufacturing System
5G and 6G Development
Unmanned Technologies
Internet of Things (IoT) and Internet of Everything (IoE)
Resource Optimization
Automated System
Electric and Hybrid Vehicle Engineering
Sustainable Industrial Revolution
Social Science
Muamalat
Accounting
Islamic Banking and Finance
Business and Management
Economics
Da'wah and Islamic Management
Counseling
Communication
Akidah and Religion Studies
New Media Communication
---
Publications Support
All papers will go through a double-blind peer-review process. Papers of high quality will be accepted for presentation and publication. All accepted papers will be published in
Malaysia Planner Journal (Scopus Indexed)
(Track: Built Environment)
Journal of Advanced Research in Applied Sciences and Engineering Technology (MyCite Indexed)
(Track: Engineering, Built Environment, Science, Industrial Revolution 5.0, Social Science)
IOP Conference Series (Scopus Indexed)
(Track: Engineering, Built Environment, Science, Industrial Revolution 5.0, Social Science)
---
Important dates
Submission deadline by: 15 November 2021
Early Bird Registration by: 30 November 2021
Normal registration by: 31 December 2021
Camera-ready: 1 Jan 2022
Conference date: 18 Jan 2022 – 19 Jan 2022
---
Fees
Early Bird:
Malaysia Planner Journal: RM1000
MyCite Journal: RM350
IOP Conference Series: RM550
Normal
Malaysia Planner Journal: RM1050
MyCite Journal: RM400
IOP Conference Series: RM600
Others
Presenter without publication: RM100
Listener only: RM100
Payment method
To be announced
---
Keynote Speakers
To be announced
---
Registration and Submission Guidelines
Prospective authors are invited to submit their original unpublished work to CoSBEE2022. The manuscripts should follow the guidelines of the prospective journal written in English. The conference paper format and template can be downloaded respectively as follows:
Malaysia Planner Journal:
MyCite Journal:
IOP Conference Series: Materials Science and Engineering (MSE):
JPCSA4Template
JPCSExampleWordDocument
JPCSWordTemplateGuidelines
Pre-registration for the conference can be done via this link
Submission for the full manuscript can be done via this link
---
Call for Reviewers
We are looking to expand our team of expert peer reviewers and would be delighted for you to join our team. Please note that you will be contacted by a member of our Editorial team here at CoSBEE2022 if you qualify to serve as a reviewer. By submitting this form you are agreeing to be contacted about this opportunity.
If you are interested, please full fill the Reviewer Application Form below.
---
Contact Us
Email:
cosbee2022@usim.edu.my
Phone:
0195743848
(Registration: Dr. Norhidayu Rameli)
0109339515
(Registration: LAr Dr. Noor Hayati Ismail)
0122540384
(Chair: A.P. Ir. Dr. Muhammad Mokhzaini Azizan)
Organized By